The Time of Crafting My Life
Hits : 680
Registration Date : 2020-01-31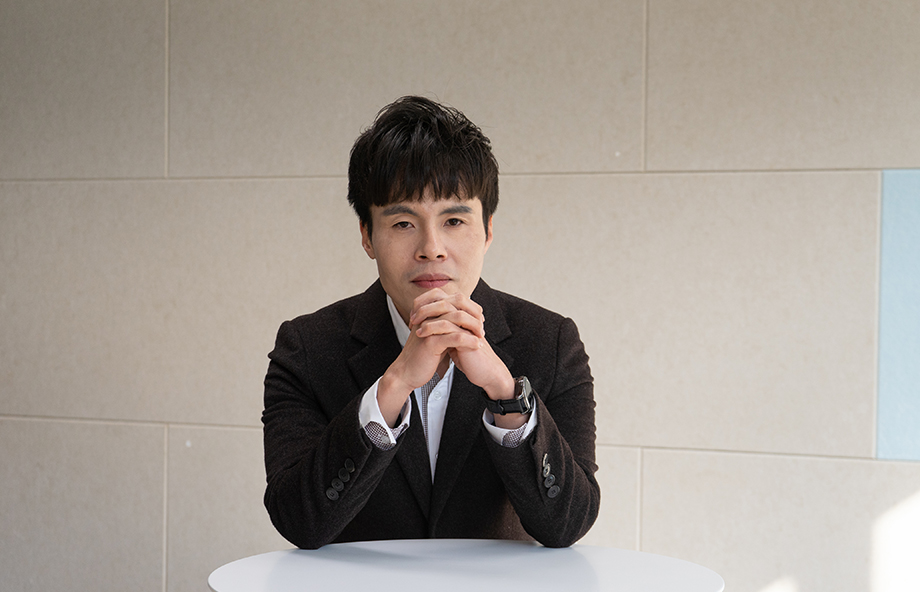 A Conversation with Alumni
The Time of Crafting My Life
Gwak Tae-jin (Completed Master's Program at UST-Electronics and Telecommunications Research Institute (ETRI) School,
Computer Software and Engineering Major, Graduated in 2012, Currently the CEO of UNIVR Co., Ltd.)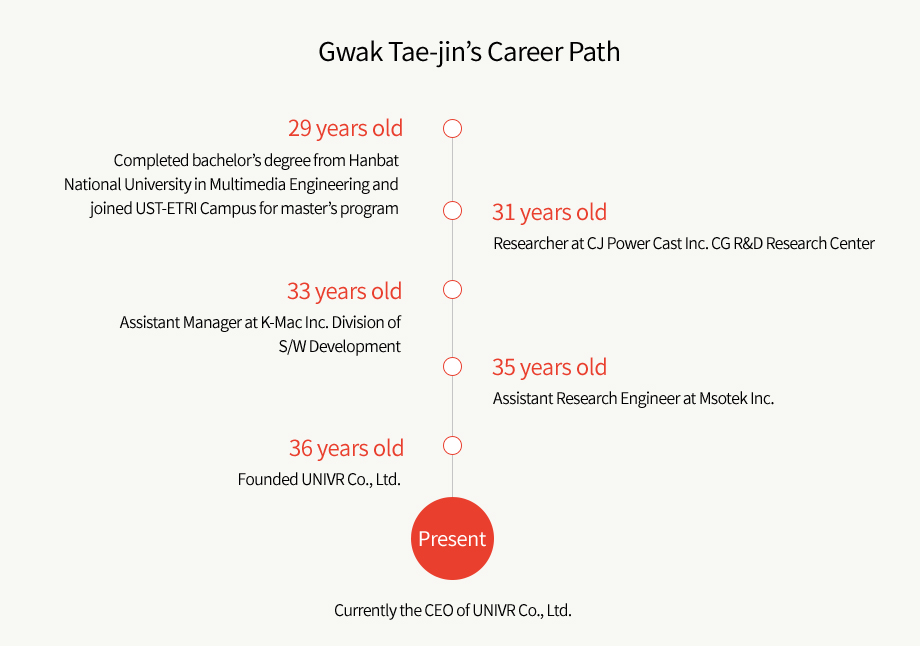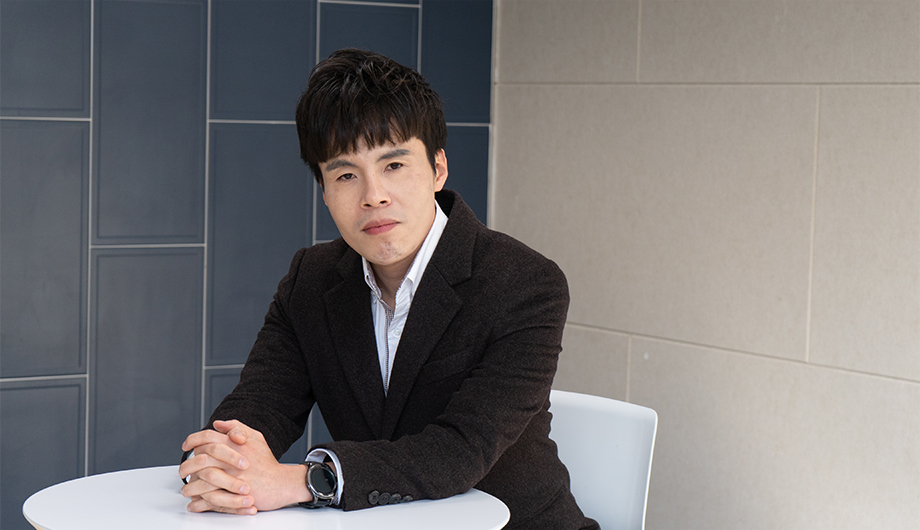 Time doesn't discriminate, given equally and fairly to everyone, which means how we craft our time gives completely different shapes to our lives. Today, we met and had a conversation with Gwak Tae-jin from UST-ETRI School. Hearing his story about his relentless effort to achieve his goals, it wasn't difficult to tell that he was forming a solid shape to his life. He never wasted a single moment in his life, which left us more curious: in what shape will his life be completed? And in what patterns will his time at UST be engraved on his life?
Trust: What Raised Me Up
Gwak coincidentally learned about UST. It was back in 2010 when he participated in the Hanium ICT Project, he was about to graduate from Hanbat National University with a Multimedia Engineering degree. The project involved forming a team among university student mentees, academic advisors, and ICT expert mentors and carrying out projects reflecting business practices. Gwak was planning a graduation project and wanted to team up with two friends to research virtual stereophonic sound. Since the field of research he wanted to explore was quite challenging for a college student, he sought help from the ICT expert mentor through Hanium ICT Mentoring.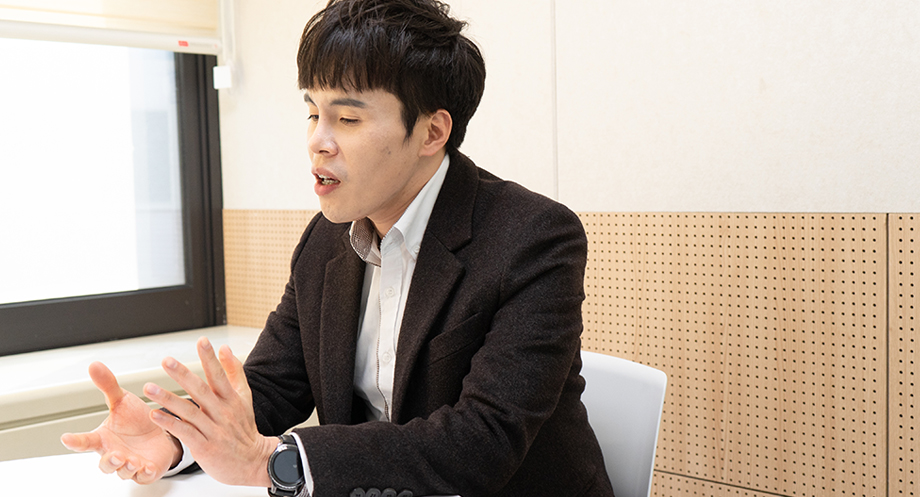 This experience connected Gwak with Researcher Kim Gi-hong. When the graduation project was successfully finished, Kim suggested Gwak study at UST. It probably came from the potential he saw in Gwak to grow even more. Even when other team members got a job and he was left alone having to finish the graduation project, he still stuck with it and made a great accomplishment. Though researcher Kim Gi-hong was not UST faculty, he made himself an academic advisor to help Gwak's study. Gwak recalls his memory at UST-ETRI as a time filled with "trust."

"For the two years of my master's program at ETRI, not only my academic advisors but also the members of the Virtual Reality research team believed in me. Though I was only a student researcher, they gave me a lot of opportunities. Every step of carrying out the research given to me helped me grow, as well. To me, trust meant opportunity."
Gwak focused on autostereoscopy visualization in the VR team. In addition, he was responsible for integrating the work of other researchers and producing advanced results. The purpose of the work was to make sure demonstration goes smoothly at various events where the president of the institute, ministers, and the president of the country are present. If Gwak's ability was not genuinely trusted, it would've not been his responsibility. He said he felt enormous pressure but it was also a turning point of his further growth.
A Special Calling, Popularizing VR
Gwak has dreamed of becoming a businessman and finally entered corporate after completing his master's degree. He wanted to continue his degree in PhD or work at the institute as a researcher but he kept moving forward because he had a goal he wanted to achieve. He thought since he honed his skill on the research during his master's degree, it was time to gain more experiences in a business setting by working for medium or large conglomerates or venture companies.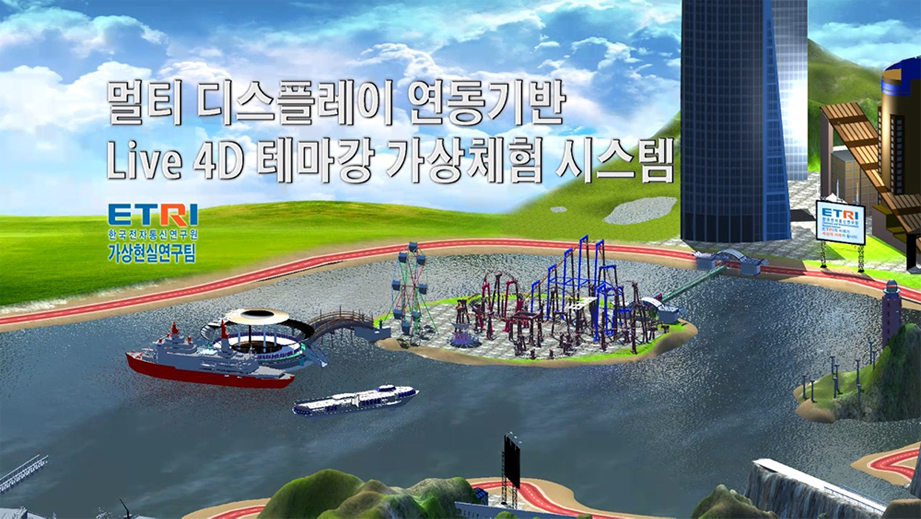 "For 7 years until I founded my own company UNIVR Co., Ltd., I experienced everything I could from a government-funded institute to medium or large sized conglomerate and venture company. There's a lot to know about business. I think various social experiences are particularly crucial. I think it's a huge risk to start a business without this kind of experience."

In 2017, Gwak founded the company, UNIVR Co., Ltd., based on his accumulated experience. Under the slogan "popularizing VR," he established a convergence VR technology development company. Strongly grounded in technology, the company develops VR content, VR operation platform, haptic devices, etc. Considering other companies in the same field tend to develop a specific service in each category, developing everything from content and platform to device distinguishes his company from others and serves as a strength of the company.

"We applied VR technology to education, sports, tourism, and architecture so far. We plan to launch mobile VR game next year. We approach from many different angles. But since we don't have our signature product yet, I want to try harder. My big goal is to bring innovation and change to people's lives by popularizing technology. I'd also like to make a company that can guarantee our employee's work and life balance and will stay with me for the rest of my life."
Strong Desire Makes Your Dream Real
When Gwak was a high school student, he learned about stereoscopic imaging for the first time, called Anaglyph 3D. Anaglyph 3D is the stereoscopic 3D effect achieved by means of encoding each eye's image using filters of red on the left eye and cyan on the right. He has always wanted to do research on stereoscopic imaging ever since. But since his bachelor's degree was in stereophonic sound technology, it was UST that finally let him achieve his dream.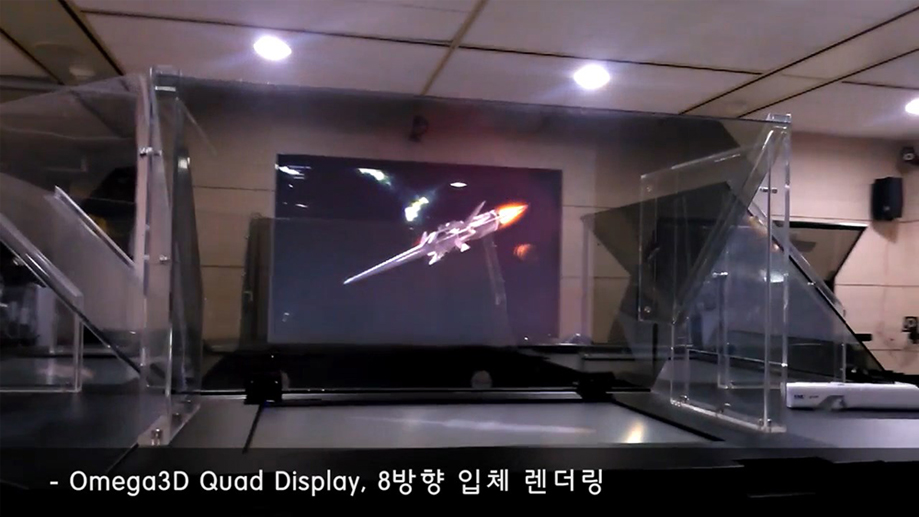 "Now when I think about achieving my dream from high school at UST, I can agree with the saying "Your strong desire makes your dream real." Since I never let go of my dream, I was actually able to realize it at UST. This allowed me to have a variety of experiences in many fields and provided the technological base, which became the stepping stone to create my own company.

In the grand scheme of life, two years at UST is not a long time at all, but rather it feels too short. Overall, how long doesn't necessarily matter much. The time at UST was the most important chapter of his life that has made him who he is today. Last year meant a lot to Gwak: he was recognized as a young fledgling businessman who contributed to boosting the economy and was rewarded "Start-Up of the Year" at the event Day of Daejeon's Small and Medium-Sized Enterprise 2019. Just like it did last year, we hope his company continues to achieve robust growth this year, as well. UST is always there to support a USTian's challenge and passion.