Doing the Impossible, the Power of Faith and Patience
Hits : 869
Registration Date : 2019-08-02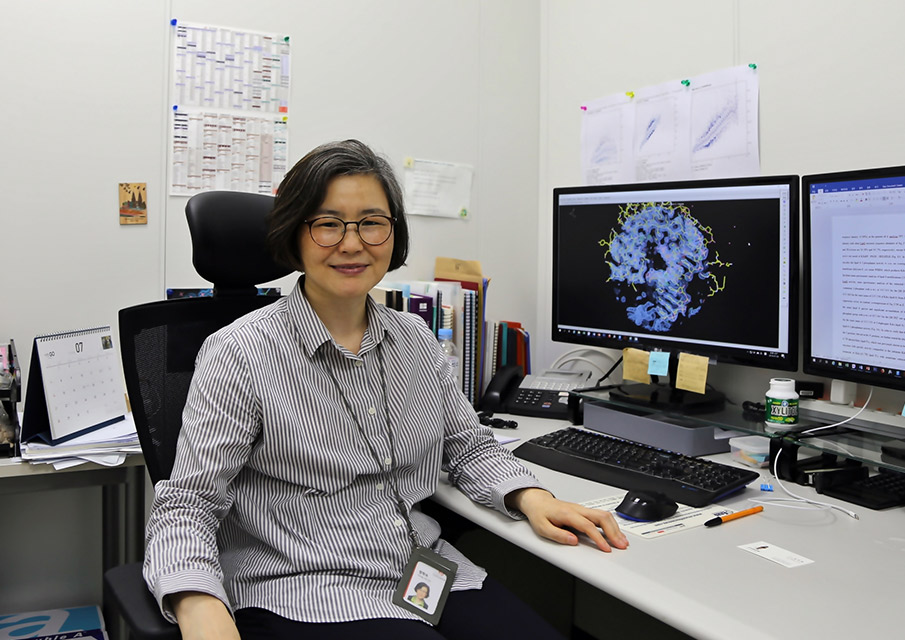 Reflections on Teaching
Doing the Impossible, the Power of Faith and Patience
Professor Chung Hak-suk (UST-KIST School)
In May, a ceremony was held at COEX Seoul for Invention Day. At this ceremony, Professor Chung Hak-suk of the KIST Theragnosis Research Team received the Prime Minister's Medal for developing the world's first adjuvant forming bacterial strain, which allows adjuvants to be extracted directly from microbes. Until now, adjuvants had been subject to an oligopoly of a handful of multinational pharmaceutical companies. Professor Chung's work has paved the way for adjuvants to be manufactured more efficiently and to a higher quality in Korea.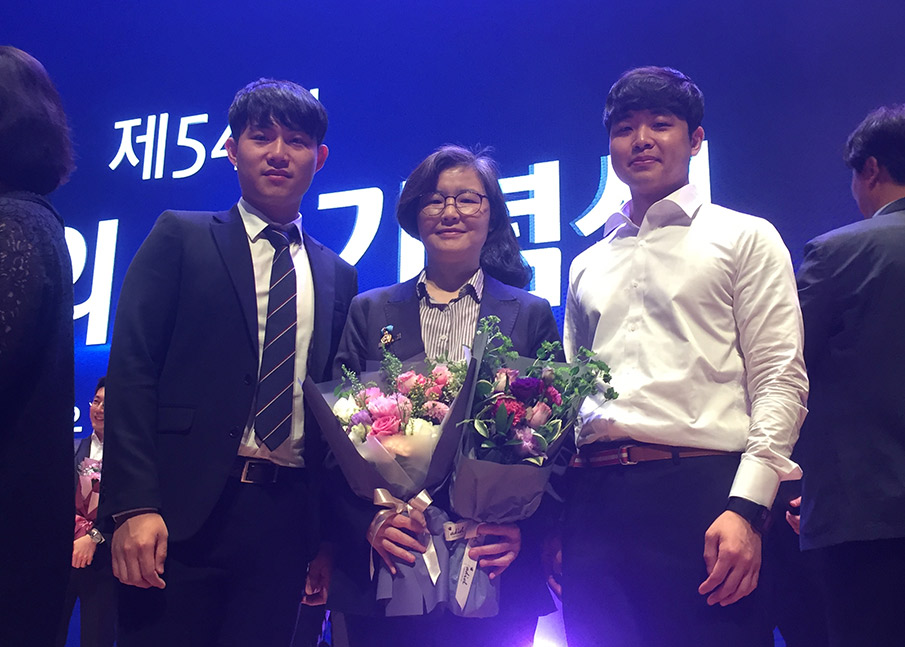 Life Changing Car Accident
It was a series of ups and downs that led to Professor Chung beginning her research in 2014. During her studies in the U.S., she had to change her research topic from chemistry to microbes. She says it felt like the sky had fallen, as she was a 4th year PhD student, and her peers were already preparing to graduate. She was forced into this life changing decision, due to a car accident and four subsequent surgeries.
"When I returned to school after a long time in the hospital, I found out that I had developed a drug allergy as an aftereffect of the accident. It was impossible to continue my original major of organic chemistry, even if I used protective gear. After some agonizing, I had to make the switch to biology, which was a field I never thought I would go into."
Back then, Chung's knowledge of the field was limited to the introductory courses she took as an undergraduate. It took courage to start over from the very bottom. She did everything she could, taking undergraduate classes, graduate classes, and seeking advice from senior students. In the meantime, her peers in the lab graduated one by one. As she congratulated them, she felt sorry for herself, having to plow through an unfamiliar discipline with no promise of success. However, this anxiety also helped strengthen her determination when she felt it wavering.
"I read paper after paper all through the night, not even knowing what they meant, and did the experiments over and over again. One day, miraculously, I began to make progress, like a child suddenly learning to talk. I think it's because I had built up stamina for research, which could be applied to different fields. Looking back, I think the greatest support that brought me through the dark tunnel of uncertainty was the patience of my teachers."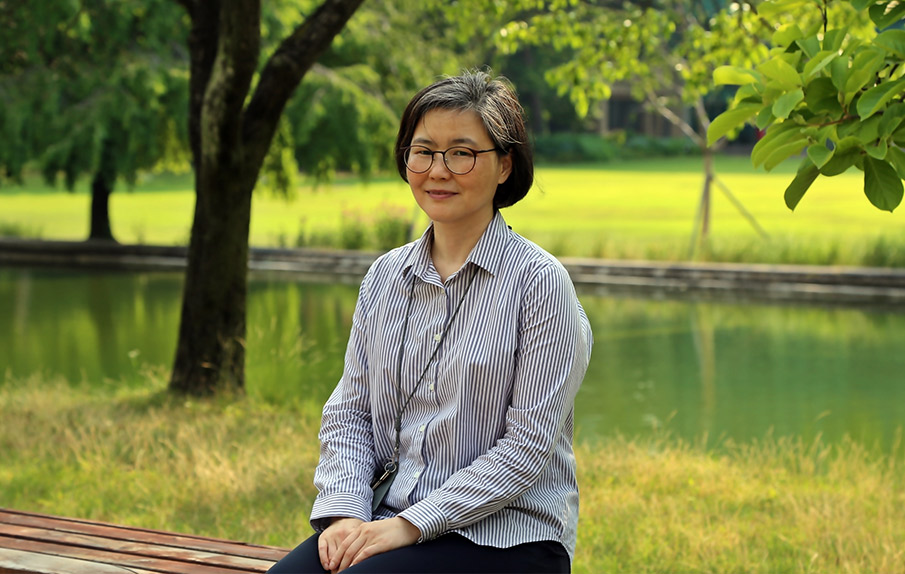 Deep Imprint Left By Her Teachers
Her academic advisor at Harvard University stood by her three-year long struggle with faith, and shed tears on the day she graduated with outstanding academic results. Then, her academic advisor at the Duke University Medical Center post-doctoral program left yet another deep imprint in her heart. Inspired by her teacher who lived each day to the fullest despite being terminally ill with cancer, she and her lab mates could not let a single moment go to waste.
Professor Chung must have been reminded of her own student days, when she thanked her student researchers and UST students (Hwang Du-hyun, Ji Yoo-hyun and Ahn Jin-su) in a recent interview. The truth was that Professor Chung's research had not been well received in the beginning. The idea to obtain adjuvants simply by modifying microbial DNA and forgoing complicated processing was unprecedented in Korea, and few believed it was feasible. The convergence of various disciplines such as microbial genetics, biosynthesis, enzymes and structural biology in her study was also seen as lacking in specialization. Her proposal was rejected time and time again, and she had to begin the study funded only by KIST's own research budget.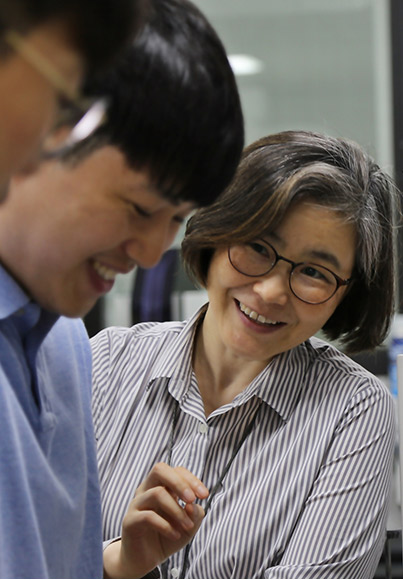 "My students had faith in me gave their best to our common goal. They remained unshaken by the doubts of others, continuously improving on our idea and working on the experiments. If it was not for the students who encouraged each other and did their best, we would not have achieved such success. It made me realize once again that rich rewards come with faith and patience."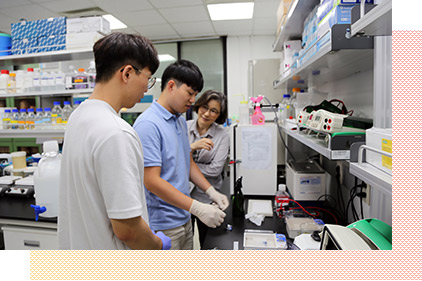 Ultimately, Professor Chung and her students succeeded in developing the technology to extract adjuvant substances from Escherichia coli using a simple refinement process in 2017, 4 years after the study began. This technology has been transferred to a Korean pharmaceutical company, where research is ongoing for its commercialization. As large-scale production can be achieved through bacterial breeding, it will greatly reduce the cost of adjuvants, which will in turn lead to the development of new vaccines and treatments for a wide range of conditions such as allergies, dementia and cancer.
We hope the priceless fruit of Professor Chung and her UST students' faith and patience leaves a long legacy beyond Korea, contributing to the health of all mankind.